Best commuting bike tires
By Ian Radstock
Equip your commuter bike with the best tires for your route to work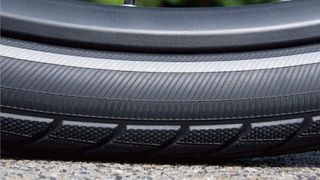 (Image credit: Schwalbe)
When you commute by bike all year round, it's important to have the right tires equipped that can handle the road surfaces and weather conditions you're likely to encounter. Most commuter tires will have a good quality tread that grips the road surface even when wet, and ideally some form of puncture protection. Some may have reflective strips along the tire wall to help make you more visible on the road in low light, while others that are designed specifically for winter riding may have metal spikes to tackle snow and ice.
Be sure to choose an appropriate tire width for your bike and your commute: most hybrid bikes will take a 28-32c tire, though they can be narrower or wider. It's important to check with the bike manufacturer to determine how much clearance there is if you decide to put on wider tires than it came with.
In terms of tread, if your commute is mostly on smooth roads, and you live in a predominantly warm climate, then you could quite happily get away with slick tires (and perhaps even commute on a road bike), to get the most fast and efficient commute.
However if your commute is more likely to be muddy, or have off-road sections, then you should opt for a tire with a knobbly tread pattern, as it will help you maintain traction when the terrain is loose.
Sign up to the Cyclingnews Newsletter. You can unsubscribe at any time. For more information about how to do this, and how we hold your data, please see our privacy policy
Thank you for signing up to Cycling News. You will receive a verification email shortly.
There was a problem. Please refresh the page and try again.