Rolf Aldag: The German Shepherd
By Daniel Benson Rolf Aldag, the Team Columbia directeur sportif, sat down with Cyclingnews at the...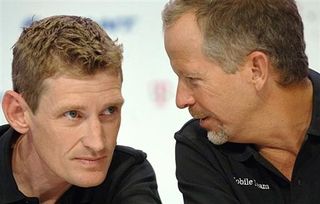 By Daniel Benson
Rolf Aldag, the Team Columbia directeur sportif, sat down with Cyclingnews at the squad's camp in Majorca, Spain earlier this month to chat about his history with doping, how Bob Stapleton saved his career and how he's helping to change the culture in the sport.
In the movie "The Shining" there's a moment of chilling cinematic history as the camera slowly focuses on a framed picture of Jack Nicholson. Fixed, sickening grin from ear to ear, it's enough to give you nightmares. What's that got to do with cycling? Well, I'm standing in the Robinson Hotel, Majorca, for Team Columbia's training camp. It's the same location used by the now defunct Telekom team and I'm about to meet Rolf Aldag, who has worked through both regimes – first as a rider and now as a directeur sportif. On a wall in the lobby is a photo of Telekom in its prime. It's a squad shot with familiar faces: Jan Ullrich, Santiago Botero, Alexander Vinokourov and Aldag. Like Nicholson, they're all grinning from ear to ear. For everything it signifies within the world of cycling, it's as scary as Nicholson's portrait.
When I find Aldag he is sitting alongside Erik Zabel, once his Six Day partner and teammate who has joined the camp as an advisor to the team's sprinters, and other Team Columbia riders for dinner. They're laughing, and although I can't make the subject (perhaps it's the photos), the mood seems relaxed. The Columbia director is still as lean as a bean, his gangly frame arched over a table in a restaurant he's probably eaten at for the many of the fifteen years he spent as a rider.
As I join the party and Aldag's friends disperse but his friendly mood remains. It's obvious why the team hold him in such high regard. But before Aldag reinvented himself as a directeur sportif and dived in to help save the team he called home from complete collapse, there was a point when the German came close to throwing in the towel. "If I hadn't had Bob Stapleton and the riders' support it might have been the end for me. I would have still confessed but under very different expectations, and yes, it was still very difficult," he says.
Read the complete interview.
Cyclingnews Newsletter
Sign up to the Cyclingnews Newsletter. You can unsubscribe at any time. For more information about how to do this, and how we hold your data, please see our privacy policy