Rapha launches new Women's 100 2021 collection
By Cyclingnews
The ninth edition of Women's 100 celebrates the trailblazers of women's cycling and features members of the Steezy Collective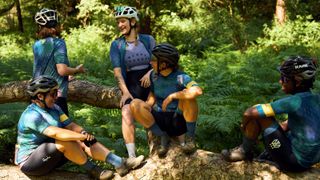 (Image credit: Rapha / George Marshall)
Rapha has just unveiled its new Women's 100 collection, an annual tradition now in its ninth year, which accompanies a global challenge for women to cycle 100km on the same day. This year's Women's 100 event will land on Sunday 12th September, and aims to inspire thousands of women across the world to come together and share the road.
This year's Women's 100 kit design is sleek, colourful and reminiscent of impressionist paintings with its dapples of greens and blues paired with pink and yellow accents. According to Rapha, the collection draws inspiration from those women who pioneered the first-ever women's cycling clubs.
Image 1 of 3
Image 2 of 3
Image 3 of 3
The 2021 Women's 100 collection aims to celebrate all aspects of women's cycling, from its trailblazers to its ever-growing community. Accompanying the launch is a series of photographs of the UK's Steezy Collective, an inclusive cycling collective made up of women, trans and non-binary cyclists from all disciplines who are setting out to change the face of cycling.
Among them are the group's founders — Taylor Doyle (Stayer Cycles), Kitty Dennis (Bowman Cycles) and Alice Clews-Smith (Apidura) — alongside Charlotte Hartwell (Women in Tandem), Vanessa Lowe (Velociposse), Harriet Ashworth (Rapha), Joey Fagtongpun (Bristol Bike Workshop), and our very own reviews writer, Mildred Locke.
Image 1 of 5
Image 2 of 5
Image 3 of 5
Image 4 of 5
Image 5 of 5
After a year of having to ride apart, Rapha has set out to unify women cyclists with a Women's 100 campaign that it says is bigger and better than ever. It includes group rides hosted across its Clubhouse and partner cafe networks in various locations across the globe. 'From dawn Down Under to sunset in San Francisco, all women; teammates, friends, those new to the sport and racers alike, are invited to come together on Sunday 12th September to go the distance', says its press release.
The Rapha Women's 100 collection is available to buy now, ready for training in the run-up to September's global rides. Most of Rapha's Clubhouses will be running training rides where COVID restrictions allow, plus there will be training sessions on Zwift, led by Rapha athletes and ambassadors.
For those who can't, or would prefer not to ride outdoors, virtual community rides will also be taking place on Sunday 12th September alongside the real-world event. Registration for the Rapha Women's 100 is open.
Shop the Rapha Women's 100 collection
Sign up to the Cyclingnews Newsletter. You can unsubscribe at any time. For more information about how to do this, and how we hold your data, please see our privacy policy
Thank you for signing up to Cycling News. You will receive a verification email shortly.
There was a problem. Please refresh the page and try again.