Supported
E-Bike Live: A five-day deep dive into electric bikes
By Cyclingnews
Join us this week for helpful how-to advice, buyer's guides, tips and more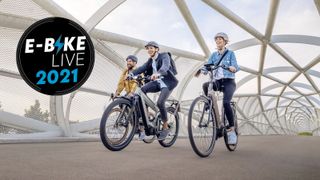 (Image credit: Bosch)
Throughout this week, from the 14th to the 18th of June, Cyclingnews invites all of its readers to E-bike Live; a five-day celebration of the electric bike which is being held by Cyclingnews in conjunction with our sister publications Bike Perfect, Cycling Weekly and MBR.
Covering every type of electric bike on the spectrum, we are discussing everything from folding commuters to electric road bikes, and e-hybrids to the latest trend of power-assisted gravel bikes.
Throughout the week, we will be bringing you a host of e-bike based content, encompassing helpful advice, how-to information, buying guides, features and more.
Scroll down for an in-depth preview of what's to come:
Monday, 14 June: Welcome
A short letter in which Cyclingnews' tech editor, Aaron Borrill, will introduce readers to the week ahead, before recounting his personal experience with e-bikes and how they fit into both his life and cycling's wider landscape.
Highlights from our Q&A deep-dive into e-bike technology, in which we sat down with industry experts Toby Pantling of ACE Bicycles and Jamie Burrow of Ribble Cycles.
Tuesday, 15 June: Buy
Do you need insurance for an electric bike?
A simple question with a complex answer. Here we'll run through the reasons you might need - or want - to insure your electric bike.
Wednesday, 16 June: Learn
A list running through the best ways to improve your e-bike experience, such as ways to increase comfort, as well as our pick of the best e-bike accessories.
With many e-bikes coming with speed limiters, here we'll give you the detailed answer to the often asked question of chipping your e-bike to make it faster.
Thursday, 17 June: Pro
Why I'm considering using an e-bike to supplement my training
E-bikes help you go further, faster, or easier, but that doesn't mean it's not possible to use an e-bike for training. Here we'll run down how it's possible, and why we're considering using one for more than just recovery day cafe-spins.
Pro e-bike: Dan Evans' Cannondale Habit Neo
Two-time British national hill climb champion, Dan Evans, might have an enormous motor of his own, but that doesn't mean he can't benefit from an electric bike too. Here's a closer look at his Cannondale Habit Neo mountain bike.
Friday, 18 June: Future
The ultimate e-bike maintenance guide
Wondering how to keep your e-bike in tip-top shape? Look no further. This helpful how-to will run through everything you can do at home to keep your e-bike running smoothly.
Sign up to the Cyclingnews Newsletter. You can unsubscribe at any time. For more information about how to do this, and how we hold your data, please see our privacy policy
Thank you for signing up to Cycling News. You will receive a verification email shortly.
There was a problem. Please refresh the page and try again.