Best bike fenders
Road bike fenders are a divisive accessory, but they can offer essential protection against spray from your wheels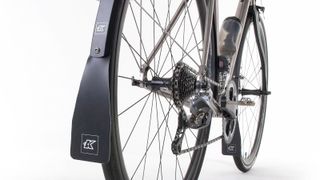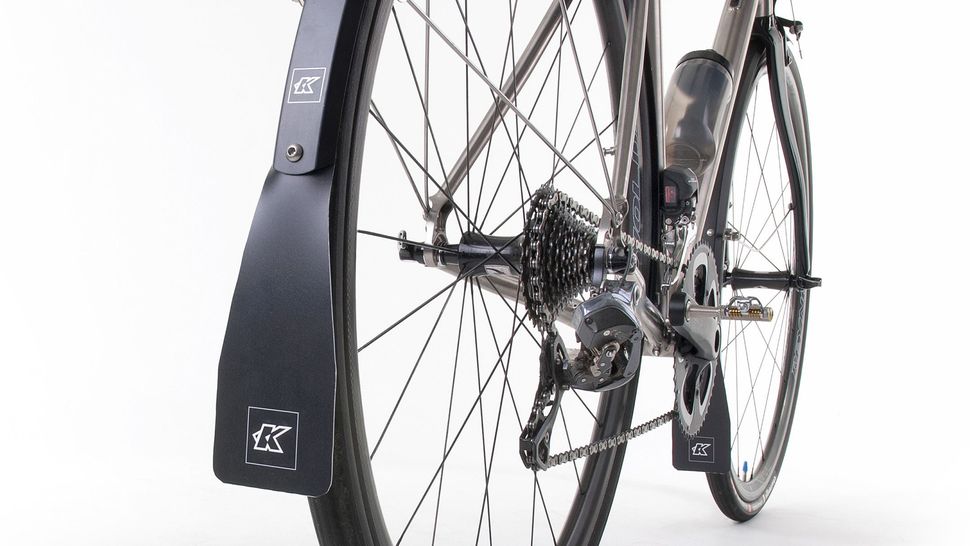 (Image credit: Kinesis)
Many roadies turn their nose up at the prospect of fenders, often saying that they're ugly and rattly before spinning off into a rant about hardening up. That's all good and well until you're two hours into a ride and your chamois is saturated and you're wearing the contents of the road on your face thanks to the uncovered rear wheel of the rider in front of you. Even the best winter cycling shoes have been forced to yield under the interminable torrent of spray, so fenders - also known as mudguards - are a game-changer when the weather isn't playing nice.
Fenders protect you from the road gunk and water that gets flung off your wheels as they spin. They come in all different shapes and sizes, with some keeping you and your bike protected, while others favour just safeguarding your body.
The industry's growing affinity for disc brakes and wider tires is leading to frames being built with more tire clearance than ever before. In turn, this leaves extra space for full-length fenders on your road bike, alongside a good pair of winter road bike tires. However, many road bikes still don't have quite enough clearance, and even fewer have the correct mounts for traditional fenders. Thankfully, there are plenty of low profile clip-on fenders that will work on just about any bike.
If you're planning to kit out your road bike with some fenders to help you get through the perils of winter cycling, then you're in the right place. We've rounded up our list of the best road bike fenders, and divided them into those that bolt-on, and those that clip on. Not sure which type you should go for? We've also included a handy guide about what to look for.
Braze-on vs clip-on
This is probably the easiest decision you can make surrounding fenders because your bike makes it for you; either it will have eyelets for braze-on fenders or it won't.
Clip-on fenders, on the other hand, are built with brackets and straps, which attach to the fork legs, seatstays, downtube or seatpost.
There's a saying among mechanics that you can fit fenders onto any bike, all you need is patience.
With that in mind, if your bike doesn't have provision for bolt-on fenders, you can use P-clips fit onto your fork legs or frame that creates an eyelet - however, be sure to the frame in either heat-shrink or insulation tape at the point of contact. Otherwise, the contact will damage your paintwork.
Threading your mudguard through a rim brake caliper isn't always a simple task, and must be considered when investing in a set. Some fenders are designed to split at this point to offer full-length coverage on race bikes.
Length and shape
Fenders come in all shapes and sizes, and the more wheel coverage they offer, the more spray they will prevent. A full-length fender will not only protect you and the rider sitting on your wheel from tire gunk, but also your frame and bottom bracket will be pelted by less salt-infused road grit.
Look for fenders that have some contouring or a rounded shape, if they are too flat they won't offer all that much protection.
Even full-length mudguard coverage doesn't necessarily prevent that arc of spray that comes from a fast-spinning wheel, fitting a flap (an Ass Saver performs well) to the end of your fenders is a great way to offer absolute coverage, and it'll probably help you make friends on the winter club run.
Snug against the tire
For a mudguard to work correctly, it needs to sit close to the tire. Beyond keeping an eye on what the maximum tire clearance of your fender of choice is, keep in mind that if a rock or something similar gets jammed between the tire and the fender it may cause the wheel to come to an abrupt stop — a big problem if it's your front wheel.
Some fenders have safety release clips where the fender can pop out of the way and allow the tire to keep spinning if something does get wedged.
Sign up to the Cyclingnews Newsletter. You can unsubscribe at any time. For more information about how to do this, and how we hold your data, please see our privacy policy
Thank you for signing up to Cycling News. You will receive a verification email shortly.
There was a problem. Please refresh the page and try again.