Oleg Tinkov confident of Giro win number two
By Gregor Brown in Varese Tinkoff Credit Systems team owner, Russian Oleg Tinkov, is confident that...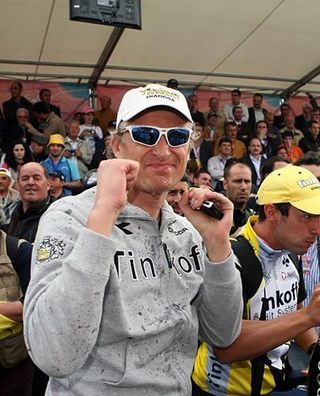 By Gregor Brown in Varese
Tinkoff Credit Systems team owner, Russian Oleg Tinkov, is confident that the team's second win will come in the 91st Giro d'Italia. With only three stage wins remaining, the 40 year-old business man and cycling enthusiast is banking on Sunday's final stage in Milano.
Tinkov is backing Mikhail Ignatiev, the 2004 Olympic Gold medallist in the Points Race, to win the 28.5-kilometre time trial.
"We are very strong," Tinkov confirmed Thursday morning before stage 18 to Cyclingnews. He is satisfied with his team's performance in this year's Giro d'Italia, which includes a stage win by Pavel Brutt in Contursi Terme.
"'Misha' Ignatiev tried yesterday. He did his best and he can now concentrate on the last day; I want him to win the time trial. I am sure he is going to win, I don't see any rivals for him. All the guys from the classification are going to be tired. He should win."
In addition to Brutt's win, Team Tinkoff had some near-misses. "Brutt's win was an emotional day – we had taken our stage," Tinkov continued as the rain fell down. "We were not so lucky – Trusov was third and Kiryienka was two-times second – especially when Trusov was third, he could have won. However, we met our objective with a stage and we can dream of the next one." He insisted, "the last one."
Tinkov and team general manger, Stefano Feltrin, are riding part of every stage. "Our objective is to do 2,000 kilometres," Tinkov stated. "We have covered 1,600 kilometres now, so I think we are going to make 2,000 kilometres. On the stage to Carpi we did the whole stage – the flat stage. Today, we will do about 100, just riding straight to Varese."
Cyclingnews Newsletter
Sign up to the Cyclingnews Newsletter. You can unsubscribe at any time. For more information about how to do this, and how we hold your data, please see our privacy policy