Best commuter bike helmets
Style, safety and function. We list the best commuter helmets you can buy - and why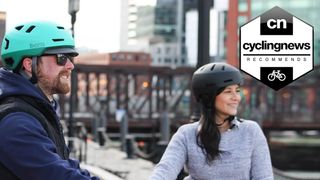 (Image credit: Bern)
Although commuting might not be criterium or road racing, with slower speeds and less daring urban cornering lines, helmet choice remains significant. There is no question that all commuter cyclists should adhere to the no-helmet-no-ride philosophy. The best commuter helmets can make you more visible to other road users (either via inbuilt lights or a vivid colourway) and crucially, they protect your head in the unfortunate event of a crash.
Requirements on your daily cycling commute differ from a training ride. The intensity of effort is lower and commuters desire to look less like they are out training, and more like they are part of the active transport movement. Subtle design and maximum comfort are necessities for the best commuter helmets, but those two prerequisites don't have to sacrifice safety.
Although you should be most concerned about safety first and fit second, many commuter helmets are still purchased on the merit of their appearance. Fortunately, the latest generation of commuter helmets is a study in style without comprising either safety or comfort.
Of course, any helmet will be suited to commuting, if you are looking for a helmet that can be used to commute but also perform on weekend road rides we would recommend choosing one of the helmets from our best road bike helmet guide. If you are on a budget or keen on saving some money we also have a cheap bike helmets guide that round ups the best value helmets and some unmissable deals.
Scroll down to find the best commuter helmets available to buy today, as well as advice for choosing.
Protection
Most helmets use a similar EPS foam structure, to absorb crash impact and protect your head from trauma. Where helmet technology has advanced, is reducing the influence of rotational impacts.
Research has delivered results that indicate most crashes see a rider impacting the road surface or pavement at an awkward angle. As your helmet deflects impact, it can trigger a sudden jerking of the head, applying unwanted rotational acceleration to the brain.
To prevent this, the MIPS-liner was developed in Sweden. It is now used as standard fitment by many helmet brands. How does it work? The MIPS system sits inside a helmet's retention structure and allows for a small amount of slippage. During a crash, a MIPS-liner decelerates those forces that your helmet's sudden change of position might apply to the head.
Ventilation
Commuters are less in need of many ventilation ports, due to the constant speeds they ride, generating sufficient airflow to keep your head cool.
Urban riders should consider the built environment they are routing through. Concrete and asphalt radiate heat throughout the day, so if you are a dedicated urban commuter, in a heavily built-up area, those summer rides could become a touch hotter than expected. Consider this in your choice of helmet and its ventilation profile.
The same can be said for riders who commute next to a body of water (lake, river or ocean), which can cool morning or evening temperatures dramatically, especially in winter. If you are a committed winter commuter and ride in areas where the winter can be severe, a helmet with more coverage and fewer ventilation ports will keep you warmer.
Sign up to the Cyclingnews Newsletter. You can unsubscribe at any time. For more information about how to do this, and how we hold your data, please see our privacy policy
Thank you for signing up to Cycling News. You will receive a verification email shortly.
There was a problem. Please refresh the page and try again.