Best energy bars
Keep hunger at bay during your ride, with our pick of the best energy bars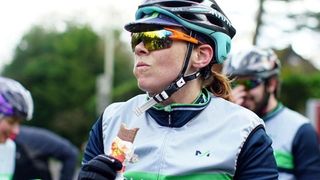 (Image credit: High5)
It's important to stay fuelled on a long ride. For any exercise that lasts over an hour, it's recommended to carry some extra food to keep your energy levels stable. Some people rely on energy gels, but nothing beats real food: it tastes delicious, delivers a burst of energy, and provides all the calories you need to keep you going. Plus it's much less likely to cause digestion problems than energy gels.
Since energy bars are so high in calories and carbohydrates, it's best to limit them to when you're actually exercising and using energy. You can eat them pre-, during, or post-training, though it's a good idea to think about the types of nutrients individual bars provide, and which stage of training they're best suited for.
Since very few of us are nutrition experts, here's a handy guide to help you understand which nutrients you need, the difference between carbohydrates and protein, and finally how to choose the best kind of energy bar for the type of ride (or general exercise) you're taking on.
One final, and very important point, is that if you're training for a big race or event, you should never try anything new on the big day. Experiment with different energy bars during your training period, so you can learn what works best for your body. When race day comes, have your secret weapons to hand, and go get 'em.
Carbs vs protein
It's easy to get caught up in questioning the difference between carbohydrates and and protein, whether or not you should be eating both, and when in relation to your workout you should have them. We're going to keep things very simple for you.
Carbohydrates are your fuel. You need them to power your body through vigorous exercise and long rides: the harder the engine works, the more fuel it needs. If you're heading out on a long ride and need to fill your jersey pockets, fill them with high-carb energy bars.
Protein, on the other hand, builds and repairs your muscles, so it's hugely important post-workout. Store some high-protein energy bars in the glove compartment if you're driving home, or have them readily available when you get home.
How much to consume
An hour before you set out on your ride, consume one high-carb energy bar to top up your glycogen stores. This is what your muscles burn for energy, so look for something with around 100-200 calories, and between 0.8 and 1.4oz of carbohydrates. Try to avoid anything with high levels of protein, fats and fiber, as these will slow down your digestion.
Once you've passed the 60-minute threshold, it's important to keep your glycogen levels topped up. Aim to consume between 1 and 2oz of carbohydrates every hour. It's better to break up your energy bars into bite size pieces to make them easier to graze on evenly throughout the ride.
It's generally recommended to consume between 0.7 and 1.4oz of protein after a workout, to help your body rebuild your muscles.
Other things to consider
Of course, not all energy bars are created equal, so it's important to read the nutrition labels and check the list of ingredients. Ideally, opt for whole grains, such as rolled oats, nuts, or fruit. These need to be at the top of the ingredients list (meaning high concentration), rather than sweeteners like high-fructose corn syrup, brown rice syrup or maltitol.
Check the calorie count and consider how many you actually need for the workout you're doing. Some bars will contain around 170 calories, while others can have 300: the same as a small meal. Always choose bars that contain less than 0.17oz of saturated fat, and after you're done working out, look for high-protein bars that contain at least 1oz of fiber.
Sign up to the Cyclingnews Newsletter. You can unsubscribe at any time. For more information about how to do this, and how we hold your data, please see our privacy policy
Thank you for signing up to Cycling News. You will receive a verification email shortly.
There was a problem. Please refresh the page and try again.