Best bike multi-tools
Fix your bike on the go with our pick of the best bike multi-tools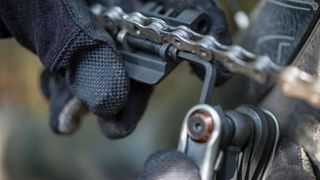 (Image credit: Blackburn)
Whether it be tightening a rattling bottle cage, raising your saddle a little, or fixing a broken chain, having the right bike multi-tool in your pocket can save a heap of frustration and the ever-embarrassing, 'can you come and pick me up' phone call. Having the wrong one can mean cammed-out bolts and a few too many expletives uttered in a public space.  
Bike multi-tools come in all shapes and sizes, some packing nearly a workshop worth of tools into a swiss army knife fold-out design, while others are lightweight and minimalist with only the bare essentials — or sometimes having the wrong tools altogether. Finding the right balance between size and functionality is critical.
Read on for a round-up of the bike multi-tools our tech team reaches for on the way out of the door for a ride. 
If you want to know what features to look for when buying a multi-tool for your bike, here's our guide covering what to look for in a multi-tool.
What do you need?
The majority of your bike can be disassembled with a 4mm and 5mm Allen key, so at the very least, your bike multi-tools should have hex keys with these two sizes. It's also worth having a 6mm. While some tools may have an 8mm or 10mm bit, quite often they aren't much use because the tool doesn't offer enough leverage to break a bolt that size loose. 
Some bikes also use Torx bolts usually in a T25 and sometimes a T-30, and a Phillips head screwdriver also comes in handy for derailleurs. 
The other tool we prioritize on a bike multi-tool is a chain splitter. Even if you have a quick link in your spare tyre kit, you'll need a chain tool to pop the old link off. Quite often the chain tool will also have spoke wrenches built into the lever. 
And along with the rise of tubeless tyres comes the need for new tools. A valve core remover isn't something many will need to use at the roadside, but if you don't have one at home (or if you lost it again), then it's good to know there's one built into your multi-tool. 
Bit-based or Swiss Army-style
When we say multi-tool, the Swiss Army-style fold-out multi-tools are probably the first things that pop into your mind, but bit-based tools are gaining in popularity because they provide more leverage, can fit into tight spaces, and allow you to only bring the tools you need, and none that you don't. They aren't the golden ticket, however, with lots of small pieces for you to lose, the bits may not be long enough to reach the recessed bolts on something like a seat-post clamp. 
Durability and build quality
A multi-tool might not be something you use all that often, especially if you have a tool kit at home, but it is probably going to spend a lot of time in your pocket or saddle bag exposed to the elements. The last thing you want is to pull your tool out to fix a roadside issue to find all the hex keys have corroded into place, or have a cheaply made tool break when a little bit of pressure is applied.
Extras
Some more extensive bike multi-tools have extras like tyre levers, torque wrenches and bottle-openers. While a torque wrench can be useful out on the road, primarily if you're dealing with carbon components, the rest is a matter of personal opinion - do you think it's worth carrying the extra grams? 
Ultimately, tyre levers only weigh a few grams, and even an expensive set doesn't cost all that much or take up much space in your pocket. When it comes to multi-tools with fun additions such as knives, pliers, and bottle openers, they might be useful once in a blue moon, but for your Sunday club ride, are they really going to be useful?
Sign up to the Cyclingnews Newsletter. You can unsubscribe at any time. For more information about how to do this, and how we hold your data, please see our privacy policy
Thank you for signing up to Cycling News. You will receive a verification email shortly.
There was a problem. Please refresh the page and try again.