Sponsored
Create your own world-class Yorkshire route
By Josh Croxton
Using komoot, Cyclingnews created our very own world-class route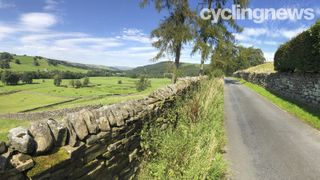 (Image credit: Josh Croxton)
This article was written as part of a four-part series, sponsored by Komoot.
In this, the first of a four-part series about komoot, I used the popular route planning app to create my own world-class route around Yorkshire ahead of the impending arrival of the UCI World Road Championships to the area. As I recount my experience, I invite you to create a free komoot account and explore the app for yourself.
I've always wanted to explore Yorkshire; to ride a bike in the county that has grown to cycling prominence over the years. As a fan of professional cycling, this September seemed like an appropriate time. In a few weeks, Yorkshire will play host to the UCI World Championships, and the world's fastest, most powerful and tactically astute cyclists will descend upon the area. For them, it will be win-or-bust; the position in which they cross the finish line will ultimately decide their memory of Yorkshire. For me, I wanted to experience Yorkshire a different way, I wanted to enjoy the journey, not the destination. I wanted to explore Yorkshire the komoot way.
I didn't want the stress of a ticking clock or power targets, I wanted to be free to stop as and when I desired; to take in my surroundings, take a picture, or eat cake.
For this, I needed a route planner that wouldn't just use an algorithm to provide the fastest option. I needed local knowledge; the best coffee shop, whether the view at the top is worth that climb, and points of interest that I wouldn't otherwise know existed.
Image 1 of 3
Image 2 of 3
Image 3 of 3
Thankfully, komoot provides all this information while you're planning your route. The map database is based upon OpenStreetMaps, overlaid with user-provided highlights which appear and disappear as you zoom in or out. This feature enables you to create a basic outline of your planned route including the most popular highlights in an area. With this, you can then zoom in to areas along your chosen route and, if you wish, exchange stretches of main roads for a detour via more picturesque scenery - like this deer park, for example.
Komoot route types
Initially, komoot gives you a choice of routing types. Of the cycling types, you have bike touring - with or without gravel, road cycling, or mountain biking. While I am excited to try the gravel touring option at a later date, for this route, I opted for road cycling.
In exploring a new-to-me area, it was important to know the type of roads and surfaces I would meet en-route, so I could pre-check their suitability. In addition to an elevation profile, a komoot tour displays waytypes (helpful for avoiding busy dual carriageways), and surfaces (which suggests the percentage of asphalt, gravel or singletrack you will encounter). By hovering over any sub-section of these, you will learn exactly where on your route it will feature, so you can drill down in more detail to assess safety and rideability.
A few tweaks here and there, including detours via a few extra komoot highlights, and my route was complete. Coincidentally, it takes in a good percentage of the same roads that will be used by the elite women's race on the 21st September.
When it comes to navigating your chosen route, there are a number of ways to achieve this. The app itself is a great guide, and although more useful for hiking users, it even offers turn-by-turn voice navigation. However, for a more cycling-focussed solution, you can either connect your komoot account to most major cycling computers, or simply download a GPX file. For this ride, I downloaded the komoot app in Garmin's Connect IQ store. A quick log in later, I had downloaded my route for offline use and was ready to go.
During the ride, navigation was flawless - besides my few innatention-led missed turns - and in the spirit of exploration, with the weather as stunning as it was, I opted for a mid-ride detour for ice cream. A quick check on komoot pointed me in the direction of a National Trust visitors centre, and the turn-by-turn voice navigation guided me away from my Garmin's suggestions with confidence.
Image 1 of 19
Image 2 of 19
Image 3 of 19
Image 4 of 19
Image 5 of 19
Image 6 of 19
Image 7 of 19
Image 8 of 19
Image 9 of 19
Image 10 of 19
Image 11 of 19
Image 12 of 19
Image 13 of 19
Image 14 of 19
Image 15 of 19
Image 16 of 19
Image 17 of 19
Image 18 of 19
Image 19 of 19
All in all, I only cycled 90km of Yorkshire's roads, but in that distance, I took in the Dales, the stunning-yet-brutal Lofthouse Climb, a number of quaint villages, and a couple of breathtaking reservoirs. It was genuinely one of the best bike rides I've ever done, so while I'd like to take credit for the route, komoot did the legwork. I would highly recommend the app, and have in fact continued to use it.
Create your own world class komoot route
I'm already planning the next ride, so check back to see where komoot takes me next.

Thank you for reading 5 articles this month* Join now for unlimited access
Enjoy your first month for just £1 / $1 / €1
*Read 5 free articles per month without a subscription

Join now for unlimited access
Try your first month for just £1 / $1 / €1
Josh has been with us as Senior Tech Writer since the summer of 2019 and throughout that time he's covered everything from buyer's guides and deals to the latest tech news and reviews. On the bike, Josh has been riding and racing for over 15 years. He started out racing cross country in his teens back when 26-inch wheels and triple chainsets were still mainstream, but he found favour in road racing in his early 20s, racing at a local and national level for Team Tor 2000. He's always keen to get his hands on the newest tech, and while he enjoys a good long road race, he's much more at home in a local criterium.
Sign up to the Cyclingnews Newsletter. You can unsubscribe at any time. For more information about how to do this, and how we hold your data, please see our privacy policy
Thank you for signing up to Cycling News. You will receive a verification email shortly.
There was a problem. Please refresh the page and try again.