Advertisement Feature
Should a mountain bike be your next bike?
Mixing it up with a spot of mountain biking can do wonders for your road riding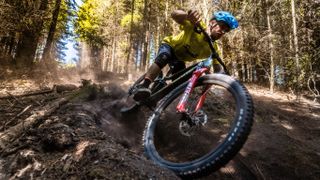 (Image credit: Lapierre)
Promotional feature in partnership with Lapierre
It's easy to think of yourself as a roadie and to keep doing what roadies do to up their fitness and performance on the bike. But there's a whole other world of off-road riding out there and even the most die-hard road rider can learn a lot from mixing in mountain biking.
Case in point Ineos Grenadiers rider Tom Pidcock, who's also the current Olympic cross country MTB gold medal holder (and cyclocross world champion) and there are plenty of other examples of top level WorldTour pros who have come from an MTB background or mix the two disciplines.
If nothing else, it's a change of routine.
So what can you get from owning an MTB as well as a stable of road bikes? We've outlined six things a roadie can get from mixing in some mountain biking in this video.
Improve your riding technique
Ability to handle a bike well will help you a lot on the road, so you can negotiate tricky situations better and potentially at faster speed.
That's something that riding an MTB will teach you in spades. Yes, you can ride along straight, easy trails, but if you point your MTB towards trees, rocks and steep downhills, you'll need to develop the balance, steering and handling skills to get you through safely.
You'll also get a much better understanding of the limits of your tyres' grip, particularly when it's loose or wet, when you have to traverse roots and rocks or when you have to ride through mud, so you'll be able to corner faster. Correcting a slipping tyre becomes second nature and an automatic reflex while braking hard without locking up and maintaining control are essential skills off-road that you can transfer to your road riding.
One of the best ways to slip your tyres is to mash your pedals, so experienced mountain bikers are among the smoothest pedallers, able to put the power down consistently through the entire pedal stroke.
The ability to make hops and jumps are also really useful skills off-road that can come in handy to avoid potholes and obstacles when you're on your road bike.
Get away from traffic
Riding on the road, you always need to be alert to what's happening around you and to other road users, even if you've picked the quietest roads at the quietest time of day. Often road surfaces are far from perfect too, so you need to be able to steer around obstacles and you need to watch your road position and signal your intentions clearly.
Ride off-road and you don't need to worry about any of that and can concentrate more on your riding, enjoy the countryside with its the peace and quiet and clear your mind. You may encounter the odd tractor or dog walker, but there's usually a lot less going on around you so you can concentrate on your riding or just enjoy your surroundings and the fresh air.
Improve your short, high intensity power
Riding an MTB is typically a lot more of a bursty activity than riding on the road; even if you haven't headed to a pump track there tend to be a lot more short, sharp ups and downs as well as more gradual ascents and descents and you need to maintain flow over the obstacles. That's great for developing your peak power output - you either need to put out enough power to crest a bump and maintain momentum or you're going to have to walk it.
That bursty power delivery comes in useful on the road too, as it should help you with sprints and shorter hill climbs. It's something you can develop with HIIT on the road or on the turbo, but it's a lot nicer to be doing it naturally as part of your off-road ride.
Improve your anticipation
There's a lot more sharp turning and weaving needed in the woods than on tarmac, often with little forewarning as you negotiate a tricky trail. Even on more open trails you need to pick your line to avoid runnels, rocks and other obstacles. That's why mountain bikes have short stems and wide handlebars for sharp, precise steering.
That ability to read the trail - and the road - ahead of you and make rapid line decisions is another skill that's really useful on the road where, let's face it, there are also plenty of surface imperfections and obstacles to negotiate. Anticipate them better and you'll be able to ride faster, more smoothly and also more safely.
Even knowing to change gear at the right time is a skill that's important off road that you can gain an advantage from on tarmac. Again, you may not get much notice of a rise coming up when you're on a mountain bike, so need to be sharp in selecting the right gear, dropping enough ratios to see you up a rise without grinding. That fluidity is directly transferable to your road riding, so you maintain your momentum into a climb while continuing to pedal at a comfortable cadence.
Challenge yourself
Most of your road riding is probably over the same roads; there are limited options if you're riding around home and even fewer if you want to avoid busy main roads. That can get monotonous after a time and you may find you're riding at a similar tempo each time and not really challenging yourself or developing as a rider.
Jump on your mountain bike and you've immediately got loads of opportunities to go somewhere different, opening up bridleways and byways. You may also find local pump tracks and bike parks that you can ride to. It's a chance to test your skills and limits.
Just mixing in something different occasionally will make it more enjoyable to return to the road, while some off-road riding might be a better option on an iffy day than a dreary, damp loop on the road bike. You'll likely find more shade off-road when it's hot too, getting you out riding on a day when you might skip a road ride.
Improve your core strength
Riding a road bike tends to be about holding the same position for extended periods of time, with occasional out-of-saddle efforts to tackle a climb or just to relieve your rear end. That's not true on a mountain bike, where you're constantly having to shift your weight to keep your balance, move yourself backwards off the saddle to negotiate steep descents and push to crest those sharp rises.
All that improves your core and upper body strength, which are important on road as well as off. Core strength is often stressed as part of off-bike exercise routines for roadies, as it ups efficiency and allows you to hold a more tucked aero position for longer, tackle climbs and out-of-saddle efforts and control the bike better on descents. Again, it's more fun to develop your core strength on your mountain bike than just working out in the gym.
So next time you're thinking about buying a new bike, maybe your shortlist should include a mountain bike to up your skills and enjoyment, not just the latest, lightest road bike out there.
Paul has been on two wheels since he was in his teens and he's spent much of the time since writing about bikes and the associated tech. He's a road cyclist at heart but his adventurous curiosity means Paul has been riding gravel since well before it was cool, adapting his cyclo-cross bike to ride all-day off-road epics and putting road kit to the ultimate test along the way.