Advertisement Feature
How cycling can help you make the most of your lunch break
By Cyclingnews
Five tips to supercharge your lunch break with cycling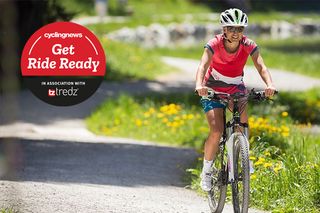 (Image credit: Tredz)
For the past 12 months, the way we work has been flipped on its head multiple times over. The current worldwide situation means employers have begun to accept that remote and flexible work can be equally, if not more productive than office-based work.
For many, working from home is the new norm and this means an altogether different way of living. The removal of the daily commute means one of two things; those who were commuting by bike are now faced with a reduction of ride time, while everyone else is faced with more free time in their day, which can be spent cycling.
The lunch break is a prime opportunity to (re)introduce cycling into your daily routine, and for some, with the newfound flexibility in working hours, the lunch break is no longer a structured affair.
Whereas previously, lunchtime could have meant a trip to the coffee shop with colleagues or a walk around the shops, working from home removes many of these social opportunities and has probably led to eating at your desk, popping the TV on, or simply moving from the office to the dining room and back.
With a bike and a little bit of creativity, you can supercharge your lunch break, enabling you to return to an afternoon of work recharged and ready to go. Perfect as the weather starts to warm up.
The Cyclingnews team has teamed up with cycling specialists Tredz to discover the best ways to use a bike to make the most of our lunch breaks, with tips for everyone; no matter whether you have 30 minutes or an unlimited amount of flexibility.
1. Explore local
Whether you do this on a new bike or the one that's been sat in your garage for years, getting out is the first step to making the most of your lunch break with a bike.
Better still, you don't have to go far to find new places, so if you don't have a full hour to play with, you can still get out and explore local. Choose to take the paths, tracks and backroads that you typically ignore and find out where they lead. Find new ways to navigate your city and spend your lunch breaks connecting the dots between point A and point B.
Alternatively, upgrade to a gravel or mountain bike and turn down that lane, through those woods and into the wilderness. Add a cycling computer to your setup and use it to preload maps, explore with Strava, Komoot and Wandrer, and track your route to get an overview of where you went.
2. Go further with an eBike
Compared to a normal bike, an eBike can allow greater average speeds, meaning they can cover larger distances in the same amount of time. This means you go further on your lunch break and explore new locations.
Alternatively, they allow you to cover the same distance in the same amount of time, but for a considerably smaller effort. This means you can ride to the top of that hill, eat your lunch with a view, then ride back without returning to work drenched from sweat.
3. Ride indoors
Not all lunch breaks need to be about getting outdoors to see the world. Especially living in the UK, where the weather doesn't always play ball with your outdoor exploration plans.
You probably have around an hour to do with as you please, and this is the perfect amount of time to jump on the indoor trainer and introduce some structure to your cycling. Whether you choose to follow a training plan, meet up with friends on Zwift or even join a race, indoor cycling is an incredibly convenient and extremely time-efficient way to ride and train.
What's more if your lunch break is a strict timeframe, one of the main benefits of indoor cycling is that you will never be late back to work. If you run out of time, you can just hop off the bike and return to your desk.
4. Don't ride
Maybe your ride time is already pencilled into your day's structure and there's no need to add even more ride time during your lunch hour. You can still make the most of your lunch break, and use the time to learn new skills both on and off the bike.
For example, you're thinking about trying cyclo-cross next winter, but you've no idea how to quickly dismount, hop a barrier, or shoulder a bike. Use the hour to practice, then integrate your learnings into your ride time.
Or perhaps you have a muscular imbalance or a niggling injury that needs addressing. You don't need a gym membership to perform basic strength and conditioning exercises, simply take to the living room floor - or if the sun's shining head to the garden - and introduce stretching exercises or bodyweight strength training to your routine.
Alternatively, if you're fed up with the lead times for repairs at your local bike shop and you wish you knew how to replace a gear cable, how to service a headset, or how to rewrap your bar tape without professional help, and a lunch break is a prime time to learn these skills.
5. Eat on the bike
Whether you're currently eating at your desk while continuing to work, or you're moving from desk to dining room and back again, you're not making the most of your lunch break. It's widely documented - and legislated - that taking a lunch break can reduce negative effects on productivity and mental health, but what's less documented is how making the most of a lunch break can yield positive results, leaving you refreshed and energized.
With a little bit of creativity, you can take your lunch break to new heights with your bike, without neglecting the original purpose of the break - the lunch itself. So whether you choose to ride to a location with a nice view, or you jump on a turbo trainer for an hour of easy Zwifting, taking your lunch along with you is a much more energizing way to spend the hour.

Thank you for reading 5 articles this month* Join now for unlimited access
Enjoy your first month for just £1 / $1 / €1
*Read 5 free articles per month without a subscription

Join now for unlimited access
Try your first month for just £1 / $1 / €1
Sign up to the Cyclingnews Newsletter. You can unsubscribe at any time. For more information about how to do this, and how we hold your data, please see our privacy policy
Thank you for signing up to Cycling News. You will receive a verification email shortly.
There was a problem. Please refresh the page and try again.