June 15-23, Langnau, Switzerland, Road - WorldTour
Complete Live Report
Live commentary by:

Patrick Fletcher
Live coverage of stage 6 of the Tour de Suisse, the first summit finish of the race.
Stage 5: Viviani gets the better of Sagan
Geraint Thomas: I'll need some big training rides before the Tour de France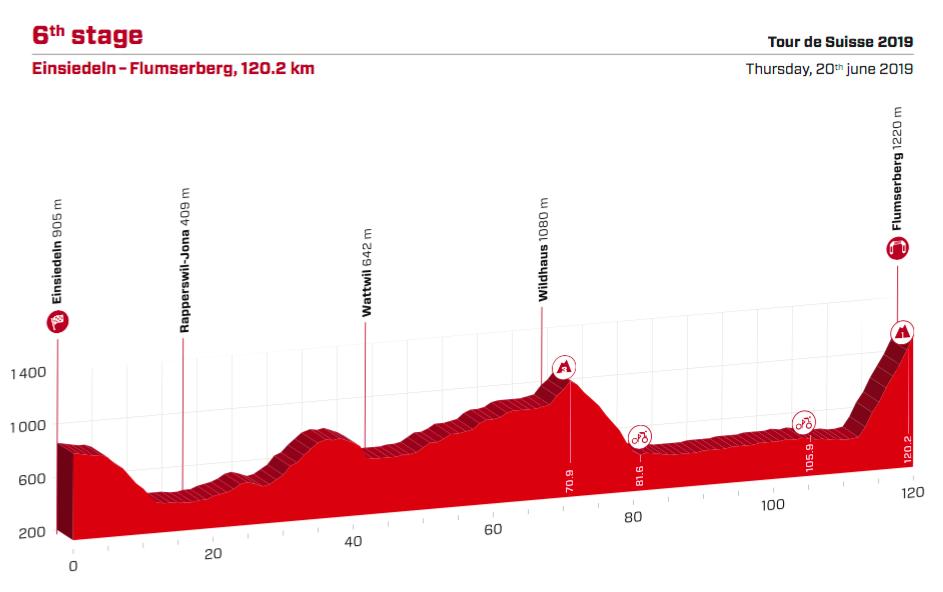 14:42:36 CEST

Hello there. A slightly delayed start to today's stage but we're now underway and in the early kilometres of stage 6 of the Tour de Suisse. It's the first summit finish of the race and, after a string of sprint battles, a shift in balance towards the race for the overall title.

14:47:22 CEST

Some early breakaway attempts but nothing has gone clear just yet.

14:52:32 CEST

Here's today's stage profile, which may explain the fast and frantic start to proceedings. They're already going downhill, and there's one minor climb just past the half way point, but otherwise it's all about that final climb up to Flumserberg. At 8.5km at 9%, it's a tough one, but with little over 100km on the clock, everyone will hit it pretty fresh.

100km remaining from 120.2km

14:58:32 CEST

The descent has seen some splits in the peloton, and we've been left with a large breakaway of around 25 riders.

15:02:53 CEST

The leaders have one minute but it hasn't let up just yet.

92km remaining from 120.2km

15:10:57 CEST

The breakaway riders extend their lead to two minutes. Michael Morkov (Deceuninck-QuickStep) was in there but has dropped back.

15:15:10 CEST

It's been a rainy start to proceedings but it looks dry at the finish now.

15:24:04 CEST

Here's the composition of the breakaway

Gian Friescke, Claudio Imhof, Simon Pellaud (Swiss national squad)

Rui Costa, Alexander Kristoff (UAE Team Emirates)

Bert-Jan Lindeman, Antwan Tolhoek (Jumbo-Visma)

Robert Stannard, Matteo Trentin (Mitchelton-Scott)

Stan Dewulf, Tosh Van der Sande (Lotto Soudal)

Francois Bidard, Aurelien Paret-Peintre (AG2R La Mondiale)

Daniel Oss (Bora-Hansgrohe)

Luis Mas (Movistar)

Nikias Arndt (Team Sunweb)

Kevin Geniets (Groupama-FDJ)

Matej Mohoric (Bahrain-Merida)

Jasper Stuyven (Trek-Segafredo)

Tom Scully (EF Education First)

Paddy Bevin (CCC Team)

Nathan Haas (Katusha-Alpecin)

Ben King (Dimension Data)

Pim Ligthart (Total-Direct Energie)

Colin Joyce (Rally UHC)

77km remaining from 120.2km

15:32:19 CEST

Plenty of firepower in that break, who now have 3:30 after just over an hour of racing. Geniets is the best-placed overall, 13th at 47 seconds.

15:42:57 CEST

Before we really get into the business end of this stage, why not catch up on yesterday's action. Stage 5 report, results, photos in the link below.

Tour de Suisse: Viviani takes second consecutive victory

56km remaining from 120.2km

15:53:13 CEST

With just over 55km to go, the 25 escapees have a lead of 3:52. They're approaching the first categorised climb of the day at Wildhaus - 3.5km at 5.1 per cent.

15:56:33 CEST

EF Education First are setting the tempo at the head of the peloton. Ineos have a couple of riders just behind, with plenty of Movistar jerseys a little further back. Max Richeze is also up there for Deceuninck-QuickStep.

15:59:48 CEST

EF have Tom Scully up the road but they're still working, fancying the chances, perhaps, of Hugh Carthy.

Ineos are one of three teams not represented in the break, the others being Astana and Deceuninck-QuickStep.

16:04:47 CEST

The breakaway riders are on the WIldhaus climb. It's a pretty steady one.

16:05:38 CEST

Claudio Imhof is wearing the mountains jersey and will surely want to be first to the top to extend his lead in that classification.

16:06:28 CEST

Into the final section and Haas attacks

16:06:49 CEST

Joyce follows, and Imhof hits out, too.

16:09:40 CEST

Joyce comes around Haas to take maximum points. His teammate Gavin Mannion is in second place in the KOM standings so that was a clever move. Imhof settles for third.

46km remaining from 120.2km

16:09:57 CEST

The peloton come over the top of the climb just under four minutes in arrears.

16:15:41 CEST

Bora hit the front of the bunch on the descent.

16:16:09 CEST

Wow, a wrong turn in the break!

16:18:25 CEST

Trentin, Imhof, and Joyce have clipped clear on the descent and they see the marshal signalling the right-hand turn and take it accordingly. The rest of them, however, all continue straight on and overshoot. Ligthart frantically brakes and corrects but the rest of them choose to take the next right and cut through a forecourt.

16:19:11 CEST

Trentin, Joyce, Imhof comes through the intermediate sprint. Trentin is first over the line but there's no contest.

16:19:37 CEST

After that disruption in the break, the three leaders now have 35 seconds over their former companions.

16:27:28 CEST

What can Fabio Aru do today? He only recently made his comeback from iliac artery surgery but is recovering quicker than expected and a good performance in the remaining stages could even see him drafted in to UAE Team Emirates' squad for the Tour de France. Meanwhile, it's touch-and-go - 50/50, to be exact - for their sprinter Fernando Gaviria, who's still struggling with a knee injury. Full story here.

27km remaining from 120.2km

16:28:11 CEST

Trentin, Imhof, and Joyce continue to lead the rest of the break by 30 seconds. The peloton is a further 3:30 back.

16:29:46 CEST

Scully has dropped from the break and is now working on the front of the peloton to help reduce the gap to his former companions.

16:31:26 CEST

The pace has ramped up in the peloton. Mathias Frank has a fairly long chase back after a visit back to the team car.

23km remaining from 120.2km

16:31:48 CEST

With the gap to the rest of the break down to below 20 seconds, Imhof goes on the attack.

16:32:20 CEST

Trentin and Joyce sit up and are absorbed back into the breakaway group.

20km remaining from 120.2km

16:36:04 CEST

Imhof has his arms folded over his bars as he heads into the final 20km and the approach to the final climb.

15.5km remaining from 120.2km

16:42:44 CEST

Imhof is caught with 15.5km to go.

16:43:41 CEST

And now for the second of the two intermediate sprints. Trentin hits out this time and takes maximum points. Oss goes with him to try and take some points away in the interests of Peter Sagan but Trentin gets there first.

13.5km remaining from 120.2km

16:44:04 CEST

Ben King attacks from the break.

16:45:58 CEST

The peloton continues its advance and the gap is down to 2:25. We're a few kilometres away from the foot of the climb. The GC contenders are going to take a fair bit of time back on the climb, so 2:25 looks a shaky advantage. Is there a rider in there who has hidden in the wheels and saved their resources?

16:47:29 CEST

King's move comes to nothing. He won two summit finish at last year's Vuelta a España and is one of the more likely winners from the break, along with Rui Costa and Antwan Tolhoek.

16:49:11 CEST

Back in the peloton, Ineos no longer have Thomas but they do have Bernal. QuickStep are working now for Enric Mas. Movistar have Marc Soler.

8.5km remaining from 120.2km

16:50:04 CEST

The breakaway riders hit the final climb!

Category-1

8.5km

9%

16:50:23 CEST

Imhof is dropped immediately.

16:50:34 CEST

Tolhoek accelerates away.

16:52:03 CEST

Lluis Mas heads up to join Tolhoek as the break quickly explodes.

16:52:24 CEST

The peloton hits the climb now, with a deficit of 1:45, and Sagan is quickly dropped.

16:52:59 CEST

Oss, Kristoff, Arndt all, unsurprisingly, dropped from the break.

16:54:10 CEST

Bevin leads a chase behind the two leaders. Stannard is there with the two AG2R riders and Costa.

16:54:43 CEST

They're in ones and twos now in the break.

16:55:13 CEST

Bevin makes it across to Tolhoek and Lluis Mas.

6km remaining from 120.2km

16:55:52 CEST

EF are still setting the pace in the peloton.

16:57:47 CEST

Ineos take over now. The gap isn't coming down too quickly. 1:30 as it stands.

16:59:32 CEST

Patrick Schelling attacks from the peloton. The Swiss national team are enjoying another active day.

4.5km remaining from 120.2km

17:01:19 CEST

4500 metres to the top of this mountain. Ineos are leading the peloton, 1:20 down. It's yet to kick off among the overall contenders. The bunch has reduced but is still sizeable and it's still Ben Swift on the front.

17:02:01 CEST

Stannard dropped from the first chase group. So just Bidard, Paret-Peintre, and Costa left in pursuit of Tolhoek, Bevin, and Lluis Mas.

17:04:20 CEST

More attacks from the peloton and Movistar send Carretero to link up with Schelling.

3.5km remaining from 120.2km

17:05:12 CEST

Tolhoek attacks again up front. Meanwhile, Costa and Bidard have caught Bevin and Mas. Paret-Peintre has been dropped.

17:06:03 CEST

It's looking good for Tolhoek. He looks strong and there are no hostilities in the peloton with just under 3km to the line.

17:06:19 CEST

Carretero drops back and leaves Schelling on his own.

17:07:02 CEST

Tolhoek is cleanly away here. He has a handy margin already.

17:07:49 CEST

Lluis Mas is dropped from the chase group. Bevin leading that group with Costa and Bidard.

2km remaining from 120.2km

17:08:45 CEST

Into the final 2km from Tolhoek and he looks to have plenty of power in the bank. The road is straight at the moment and perhaps belies the steepness of the gradient.

17:09:18 CEST

The peloton are moving quicker now. The gap to Tolhoek drops to one minute.

17:09:36 CEST

Action in the peloton! Ineos light it up.

17:10:04 CEST

It's Elissonde raging on the front for Ineos, setting up for Bernal.

1.4km remaining from 120.2km

17:10:38 CEST

Tolhoek has 30 seconds over Bevin, Costa, and Bidard. The gap to the peloton is falling. 55 seconds now with 1.4 to go.

17:11:16 CEST

Can Tolhoek hang on? It's kicking off behind but probably too late.

1km remaining from 120.2km

17:11:34 CEST

Tolhoek heads under the flamme rouge and into the final kilometre

17:11:59 CEST

Bernal has absolutely ripped out of the peloton and has just flown past Bevin and co.

17:12:26 CEST

I said it might be too late but Bernal is flying and even a hundred metres is a long way on a steep climb.

17:12:57 CEST

Bernal is hunched over his bars giving it everything. No other GC riders can match him.

17:13:38 CEST

Bidard is trying to get back up to Bernal. Jan Hirt looks to have attacked for Astana. Pozzovivo is a little further back.

17:14:00 CEST

Tolhoek heads into the final 400 metres. No time gaps on offer at the moment.

17:14:18 CEST

No looking back. It looks like he's got it in the bag.

17:14:44 CEST

Here he comes, into the final 200 metres. A quick look over the shoulder...

17:15:00 CEST

And now into the final 100, and a smile breaks out as he punches the air.

17:15:13 CEST

Tolhoek sits up, celebrates, and crosses the line.

17:15:22 CEST

Antwan Tolhoek (Jubmbo-Visma) wins stage 6 of the Tour de Suisse

17:15:41 CEST

Bernal takes second place, 16 seconds down.

17:16:04 CEST

Bidard hangs on for third place.

17:16:48 CEST

Jan Hirt is the next of the GC riders, 11 seconds behind Bernal. Pozzovivo loses a further four seconds.

17:17:17 CEST

Another GC group comes in 30 seconds down on Bernal, and it looks like it's Kelderman, Konrad, and maybe Dennis.

17:17:41 CEST

Enric Mas finishes 1:08 down, so nearly a minute down on Bernal.

17:18:33 CEST

Frank loses more than three minutes.

17:22:54 CEST

That's a first professional victory for Tolhoek, the 25-year-old pocket climber from Holland. He had a disappointing Giro d'Italia, where he was riding for Primoz Roglic, but has made amends here.

17:23:31 CEST

Top 10

1 Antwan Tolhoek (Ned) Team Jumbo-Visma 2:43:34
2 Egan Bernal (Col) Team Ineos 0:00:17
3 François Bidard (Fra) AG2R La Mondiale 0:00:24
4 Jan Hirt (Cze) Astana Pro Team 0:00:29
5 Domenico Pozzovivo (Ita) Bahrain-Merida 0:00:31
6 Patrick Bevin (NZl) CCC Team 0:00:38
7 Rui Costa (Por) UAE Team Emirates 0:00:44
8 Tiesj Benoot (Bel) Lotto Soudal
9 Patrick Schelling (Swi) Switzerland 0:00:46
10 Patrick Konrad (Aut) Bora-Hansgrohe

17:25:52 CEST

General classification after stage 6


1 Egan Bernal (Col) Team Ineos 18:40:18
2 Rohan Dennis (Aus) Bahrain-Merida 0:00:12
3 Patrick Konrad (Aut) Bora-Hansgrohe 0:00:29
4 Jan Hirt (Cze) Astana Pro Team 0:00:35
5 Tiesj Benoot (Bel) Lotto Soudal
6 Marc Soler (Spa) Movistar Team 0:00:41
7 Domenico Pozzovivo (Ita) Bahrain-Merida 0:00:50
8 François Bidard (Fra) AG2R La Mondiale 0:00:58
9 Fabio Aru (Ita) UAE Team Emirates 0:01:07
10 Nicolas Roche (Irl) Team Sunweb

17:31:50 CEST

Let's hear from Tolhoek

"It's really special for me. Three years ago I was here with Roompot and I won the mountains jersey here in such a big race like this one. I was really happy then and now I've taken my first pro victory here at the WorldTour level, it's really special for me.

"Also, the way we rode as a team over the last few days, we are only five guys and we keep fighting every day. My teammate Bert-Jan Lindeman was pulling really hard today and I'm so happy I was able to finish it off.

"I heard in the radio [Egan Bernal had attacked] but I didn't want to look back because the last year in California he beat me. I was saying to myself, this can't happen today, I will win today and I'm really happy with it."

17:47:02 CEST

18:02:54 CEST

Breaking: Tom Dumoulin will not ride the Tour de France

18:25:06 CEST

That's it from us for today. Tomorrow we have a bigger mountain stage and a bigger summit finish. Should be a cracker. Hope you'll join us again. Bye.